Considerations When Planning Myrtle Beach Family Vacations
|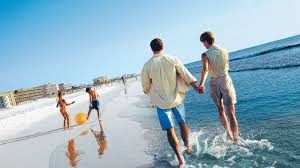 Myrtle Beach is one place that offers something for kids and adults of all ages. This location is a wonderful vacation spot and one that many families choose to come back to year after year.
When planning Myrtle Beach family vacations, most people will automatically consider visiting during the summer vacation. This is considered the peak tourist season, which will mean there are more people on the beaches and often less accommodation choices.
When planning your summer vacation to this very popular spot, a good option is to book the first couple of weeks after school ends in the summer or the last couple of weeks before school is back in session. This will allow you a bit more time to enjoy the almost 60 miles of beach that make up the Grand Stand.
Around the Year Vacations
For a different look at this beautiful area of the country, you may want to consider Myrtle Beach family vacations at different times of the year. This would be a great Christmas gift for the family, particularly if you planned to have a fun filled New Years at your hotel, condo or villa.
Thanksgiving and Easter are two other times of the year where the kids will be out of school and parents can typically get away from work. With the low rates in these off-peak times, it is a low-cost option for Myrtle Beach family vacations that will make any holiday different and memorable.
Throughout the year, the beach makes for a wonderful place to walk, play and take in the sights. There is also the Murrells Inlet Marsh Walk that is open year-round with amazing dining on the waterfront as well as activities and entertainment that kids and adults will really enjoy.