The Ultimate Romantic Gondola Cruise Date in San Diego, CA
|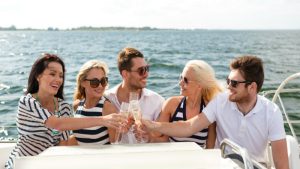 A romantic date can be very special. A truly romantic anniversary date in San Diego, CA, should be an epic event, a truly memorable occasion. One gondola boat tour company in San Diego provides all the tools that can make your next romantic anniversary date in San Diego, CA, your very best one ever.
This Venetian gondola company is the only gondola company on San Diego's own Lake San Marcos and offers four beautiful cruises throughout the day. These include:
The SunUp Special: Perfect for a daytime date or a group brunch cruise for guests of all ages (up to four persons), this cruise lasts 50 minutes.
The Venetian Gondola Experience: This 50-minute cruise for up to four guests is the classic daytime cruise.
The Sunset Cruise: Geared more toward two guests, this cruise enables guests to take in the beauty of the sun setting during their voyage.
An Enchanted Evening Experience: Perhaps the most romantic ride in the whole city, this is a romantic cruise under the starlit sky.
What really adds that super extra touch of romantic class are the enrichments available on each cruise. These include:
Message in a bottle: Have a "mysterious" message float up to the boat- written by you!
Bouquet of roses
Long stem rose & petals combo
Drone media of your cruise: Comes in Basic, Classic, and Premium packages
Live musician
Authentic Venetian blanket
If you're looking for wonderful photo opportunities for this grand date (and virtually every couple does!), the company plays its part by providing the Venetian gondola along with the fully attired Gondolier.
Guests on any of the cruises are welcome to bring their own snacks and beverages of choice. Anniversary celebrants particularly go for the wine and champagne as they "fall in love again" (amore!) amid the beautiful enrichments and peacefully guided cruise along the way by the expert Gondolier.
The Black Swan Gondola Company features all listed attractions and amenities here, and much more. For more information, contact us now.